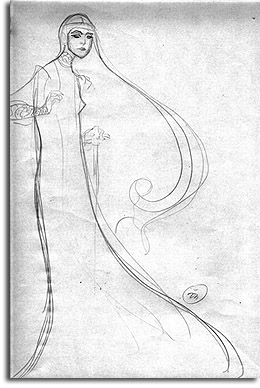 The long, long, long development process that has plagued Disney's animated interpretation of Hans Christian Andersen's 1845 tale The Snow Queen might actually have an end in sight. Now tagged with the "hip and edgy" moniker Frozen, the computer-animated adaptation is slated for release November 27, 2013. The film has been in development, on and off, for more than a decade, and was previously intended to be a hand-drawn animated release.
Details of the film announced this week include the casting of Tony Award winning actress Idina Menzel (Wicked, Rent) as the titular Snow Queen. Menzel joins actress Kristen Bell (the always-great Veronica Mars), who was announced as part of the cast earlier. Disney described the film's plot in a new press release:
In "Frozen," a prophecy traps a kingdom in eternal winter, so Anna (voice of Bell) must team up with Kristoff, a daring mountain man, on the grandest of journeys to find the Snow Queen (voice of Menzel) and put an end to the icy spell. Encountering Everest-like extremes, mystical creatures and magic at every turn, Anna and Kristoff battle the elements in a race to save the kingdom from destruction.
Also announced was the songwriting team for the movie, husband and wife duo Robert Lopez and Kristen Anderson-Lopez. Lopez is a two-time Tony winner for Avenue Q and The Book of Mormon; the couple also wrote the songs for last year's Winnie the Pooh as well as Finding Nemo: The Musical at Disney's Animal Kingdom park.
Frozen (that title… so terrible) is directed by Chris Buck, who previously directed two animated films about surfing: Surf's Up and Disney's Tarzan. Peter Del Vecho (Winnie the Pooh, The Princess and the Frog) is producing.
In other… news, Disney announced yesterday that the first Pixar-derived direct-to-video project, the Cars spinoff Planes, has been pushed back to a Fall 2013 DVD and Blu-ray release. Could this have anything to do with rumors that Mr. Lasseter is pushing for a theatrical release for his spinoff? I don't know. But work on a sequel is already underway…