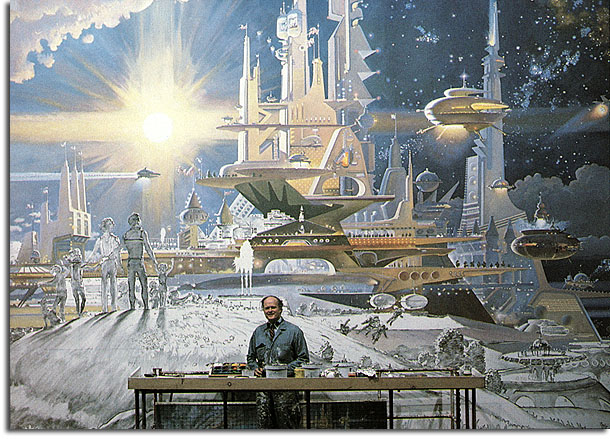 The 1983 General Electric promotional booklet for Horizons contains a brief feature about artist Robert McCall. McCall, a renowned illustrator of science fiction and science fact, was a constant presence in space-related publications during the 1960s, 70s, and 80s. His highly-detailed work helped define the look of futurism in that period, so it was only natural that he be involved in the EPCOT Center project. For Horizons, he painted what has become one of the most iconic pieces of artwork in the park's history, The Prologue and the Promise – a massive, 19-by-60 foot mural that occupied the pavilion's exit area for a few short years. Perhaps it's a tribute to McCall's piece that it's so well remembered today, when it only existed for a brief time before being removed to make room for a new display that more directly referenced sponsor General Electric.
The Man Of Many Worlds
The Prologue and the Promise mural, which adorns the exit of the Horizons pavilion, is the work of Bob McCall, the science artist who has covered almost every NASA space launch, who speaks the language of the astronauts, who worked on the film 2001: A Space Odyssey and collaborated with writer Isaac Asimov on the book Our World in Space.

A man of many worlds, McCall spent close to 10 months planning and then painting the Horizons mural on a 19-by-60-foot canvas.

"It took about three months to develop the concept for the mural at my studio in Paradise Valley, Arizona," McCall says. "The second phase, the actual painting, took more than six months. It was done at the Disney studios in Burbank, California. With the help of my wife Louise, a fine artist in her own right, I finished the mural in March."

The Prologue and the Promise, according to the artist, represents the "flow of civilized man from the past into the present and toward the future."

A detailed painting, it depicts most of the earth's nationalities, cultures and religions. And it also depicts the McCall family.

"That's right," says McCall, "my family is in the mural. If you look close enough, you'll see my daughters, Cathy and Linda, their husbands and my four grandchildren as well as Louise and myself. And, oh yes, you'll also see Linda's pet dog."
As long as he can remember, McCall has wanted to be an artist. In the 1960s, he talked Life magazine into assigning him to cover the launching of America's manned space program as an illustrator. He has since covered almost every space launch.

He has done conceptual paintings for a number of films, including The Black Hole, Star Trek and 2001: A Space Odyssey, and worked with Asimov on a space book. McCall conceived the idea for the book and then Asimov wrote the story around the artwork.
"I got top billing in the book because I told Isaac that he had written hundreds of books and this was my first," says McCall.

Despite his preoccupation with space, history also holds a fascination for McCall. "For an artist trying to guess what the future holds," he points out, "the study of history becomes very important."

McCall has been greatly influenced by the painters of the Napoleonic Wars. "They painted heroic battle scenes-full of pageantry, romance and drama," he says. "The paintings are powerful."

When working on a mural, such as the one at the Horizons pavilion, McCall starts with a sketch and then draws a 10-foot master which he sections off into one-inch grids. Slides taken of each grid are then projected onto the mural canvas, allowing McCall to sketch a perfectly scaled final version.

One of his murals, The Space Mural: A Cosmic View, is on display at the Smithsonian Air and Space Museum. It's nearly twice the size of The Prologue and the Promise.

"Everyone should experience the thrill of learning about our universe," comments this man of many worlds. "It gives us a sense of where we are, where we're going. I'm convinced man's destiny lies in the stars."