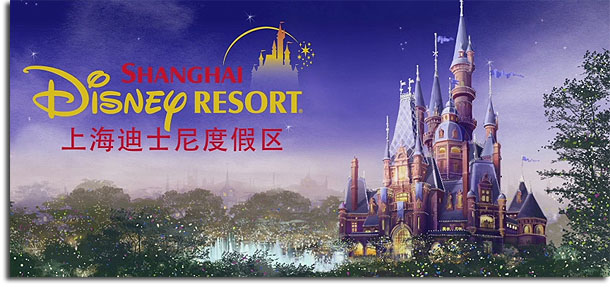 Overnight, Shanghai Disneyland went live with their new website, with this more flattering rendering of the proposed new castle. Named "Storybook Castle" according to the site, it will be "the most interactive Disney castle yet, complete with entertainment, dining and performance spaces." No doubt there will be plenty of opportunities to meet and dine with princesses; this will surely benefit from all the planning done for similar proposed attractions in Florida's Fantasyland.
Bob Iger's focus on technology will obviously feature heavily in this new park; according to Disney, Shanghai Disneyland "will take advantage of advances in technology to place Guests in exciting worlds where they can be part of the action like never before" and "the park will take full advantage of advances in virtual technology as well as new gaming and ride systems that will fully immerse our guests in our attractions." This could mean something truly new and exciting, if the art of placemaking in the real world doesn't get overlooked in the rush for "NextGen" street cred.
Other details gleaned from the website include the fact that the two hotels Disney plans to build – one value and one deluxe – will total 1,220 rooms, and will surround a 100-acre lake alongside "other outdoor recreation facilities, and parking and transportation hubs." A 300,000 square foot retail location, similar to Anaheim's Downtown Disney, will sit adjacent to the theme park.
The promise that "classic Disney characters and storytelling will blend with Chinese customs and celebrations to create a unique experience for guests in Shanghai" hints again at the cultural mandate Disney has received for this park. I continue to wonder what, exactly, they have in mind to achieve this goal. My vote is for an area themed to 1930s Shanghai, a la Indiana Jones. It will probably be quite a while before we start seeing finished designs, and how Disney plans on ensuring that "Shanghai Disney Resort will have something for everyone – thrilling adventures, lush gardens where guests can relax together and enriching interactive experiences, all with the world-class guest service that Disney is known for around the globe."