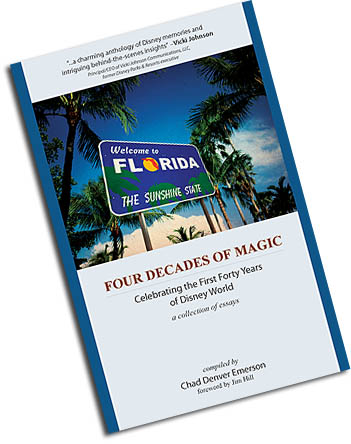 A month from today, I will return to the world of legitimate printed material for the first time since my days at the Daily Tar Heel when Four Decades of Magic: Celebrating the First Forty Years of Disney World is released. Published by Ayefour, who also released Project Future and Jim Korkis's The Vault of Walt, this new volume contains twenty-eight essays written to commemorate the 40th anniversary of Walt Disney World.
A number of Disney writers, bloggers, and commentators have contributed to the project, including several good friends of Progress City. I contributed two essays – one, an extended look at the creation of the classic EPCOT attraction Horizons, and the other a brief look at the development of the EPCOT concept from 1971-78. It's far from comprehensive, but I hope people enjoy it.
The book will be available soon on Amazon, and you can always get the latest news on Ayefour's website.
Here's the rest of the lineup from the book:
Foreword by Jim Hill

Introduction by Chad Emerson

The Sunset Boulevard that Was, Is, and Never Will Be – Tom Corless

When is the 3 O'Clock Parade? Then, Now, and Forever – Tom Corless

Tomorrow's Windows: Looking Back at Horizons – Michael Crawford

A Brief History of the Future: From EPCOT to EPCOT Center – Michael Crawford

The Walt Disney World Monorail System – Jason Diffendal

Spaceship Earth – Jason Diffendal

Much Ado About Hoop-Dee-Doo – Greg Ehrbar

The 65th Year for Mickey, the Very First Visit for Kids – Greg Ehrbar

Walt Disney's EPCOT and the Heart of Our Cities – Sam Gennawey

Joe & Carl: Two Men Who Built the World – Didier Ghez

Disney Brings Sports to the World – Adam Goswick

Whatever Happened to Beastly Kingdom? – Scott and Carol Holmes

Magic of the Night: The Evolution of Walt Disney World's Nighttime Fireworks Displays – Debra Martin Koma

Meeting Mickey: Remembering Mickey's Toontown Fair – Jim Korkis

For Your Pleasure: The Mythology and Reality of Pleasure Island – Jim Korkis

The Relative Truth About If You Had Wings – Mike Lee

Thunder Mesa & the Western River Expedition: A Neverending Story – Mike Lee

History of the Hoop Dee Doo Musical Revue – Chuck Mirarchi

History of the Main Street Electrical Parade – Chuck Mirarchi

History of the Contemporary & Polynesian Resort Hotels – Chuck Mirarchi

Walt Disney World Resorts That Never Were – Lou Mongello

Goodnight, George: A Ghost Story – Foxx Nolte

Another Magic Corner of the World – Foxx Nolte

EPCOT 1939 – Jeffrey Pepper

The Carousel of Progress: What Would Walt Think? – Michael Scopa

An Island Filled with Tropic Beauty, Colorful Birds, and the Mystery of Ben Gunn's Buried Treasure! – George Taylor

Honoring the Cast: Insider Tributes & Homages – Kevin Yee

Theme Park Archaeology – Kevin Yee