Here's something I've been waiting to hear about for a while.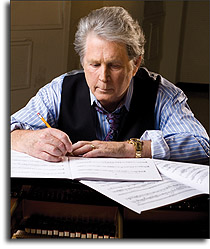 On August 17th, the new "Disney Pearl" imprint will release an album by the great Brian Wilson containing covers of works by George and Ira Gershwin. Some of these songs are well-known standards, while two are previously unfinished compositions that Wilson has completed for this record.
The songs will get the full Brian Wilson treatment; with production by Wilson and featuring his band on backing instruments and vocals, the new recordings will feature his trademark lush orchestration and stacked vocal harmonies. The album begins and ends with a capella vocal renditions of 1924′s Rhapsody in Blue, a conceit that's reminiscent of Wilson's concept album Smile.
The path to this release began last year when the Gershwin estates and their publisher gave Wilson access to over 100 demos, unfinished pieces, and song fragments that were left incomplete when Gershwin died in 1937. Wilson then selected two of these for the project. The first, The Like in I Love You, was originally known as Will You Remember Me? before it was cut from Gershwin's musical Lady, Be Good! in 1924. The second new piece, Nothing But Love, was adapted from a song fragment called Say My Say which was abandoned in 1929.
Brian Wilson Reimagines Gershwin hits stores and online music sellers August 17th; a vinyl pressing will be available on August 24th. More information is available at Disney's music site and Brian Wilson's site, or you can follow Disney Music on Facebook or Twitter.
Track Listing:

1. "Rhapsody in Blue"/Intro
2. "The Like in I Love You"
3. "Summertime" (from Porgy and Bess)
4. "I Loves You, Porgy" (from Porgy and Bess)
5. "I Got Plenty o' Nuttin" (from Porgy and Bess)
6. "It Ain't Necessarily So" (from Porgy and Bess)
7. "'S Wonderful" (from the Broadway musical "Funny Face," also used in MGM film "An American in Paris")
8. "They Can't Take That Away from Me" (used in the film "Shall We Dance" and nominated for Academy Award)
9. "Our Love is Here to Stay" (from the film "The Goldwyn Follies" and MGM film "An American in Paris")
10. "I've Got a Crush on You" (used in Broadway shows "Treasure Girl" and "Strike Up the Band")
11. "I Got Rhythm" (from Broadway show "Girl Crazy")
12. "Someone To Watch Over Me" (from Broadway show "Oh Kay!")
13. "Nothing But Love"
14. "Rhapsody in Blue"/Reprise