Subtitle: 1,001 Arabian Flushes…
So ever since the long quest for photographic proof of EPCOT's lost Danish bathrooms concluded, the hunt was on for those other lone bathrooms of EPCOT's early days – the restroom complex that would one day be part of the Morocco pavilion.
While the Morocco showcase would not open until 1984, you can tell from this 1982 photograph that work was already underway at that site well before the pavilion's official "groundbreaking" in 1983.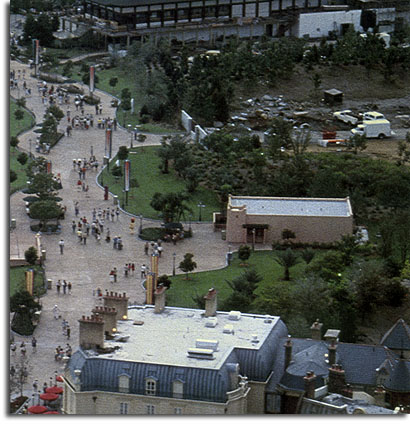 Of course, there was already something completed on the site – the bathrooms. Here they are, in all their glory, as they were on opening day in 1982: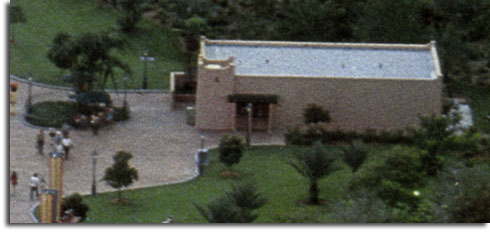 The Morocco bathrooms at EPCOT, 1982
Guests were no doubt grateful for these solitary and mysterious bathrooms – the only such facilities between the United Kingdom and the American Adventure. The complex stood alone – almost like a French Foreign Legion outpost in the middle of nowhere – until it was joined by the rest of the Morocco pavilion in 1984.
Of course, the bathrooms of Morocco don't have the cachet of mystery that the toilets of the lost Denmark pavilion have maintained. Sadly, we've all but exhausted the possibilities for porcelain archaeology in World Showcase – until that day where scientists hopefully unearth the plumbing fixtures for the mythical Equatorial Africa complex…