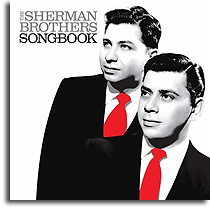 It's hard to argue that any individual or individuals, aside from Walt himself, has had a greater effect on the musical history of the Walt Disney Company than Richard and Robert Sherman. Of course there have been many prominent and highly talented songwriters at the studio both before and after the brothers' tenure there, and several iconic composers and orchestrators such as George Bruns and Buddy Baker, but few if any can claim to match the sheer size of the Shermans' catalogue. In fact, the scope of their creations is so vast and their presence so ubiquitous that one can tend to overlook it – their songs are so ingrained in the Disney experience that it's hard to conceive that they weren't always there.
For those of us who might need a reminder of just what the Shermans managed to achieve, or those who know these songs well but had never bothered to think about their origin, Walt Disney Records has recently released a 2-disc set of the songwriting duo's work that brings together 59 tracks from their four decades writing for the company. Newbies will be shocked that all these songs were written by the same individuals, and even long-time fans will be taken aback by the sheer amount of iconic music. One hopes they'll also actually stop and think about the songs themselves; removed from the context of their individual films or attractions, the songs are allowed to stand on their own merits and the result is fascinating.
The Shermans occupied a niche in musical history that has in many ways disappeared; they were the only staff songwriters Disney ever had, in one of the last studio music departments in Hollywood. From their father, Al Sherman, they inherited a firm rooting in the Tin Pan Alley tradition; this seems to have melded in their style with more modern pop influences, Broadway, and music hall traditions. Listening to so many of their songs together, their style reminds me more than anything else of Cole Porter; their lyrics are witty and verbose, and almost always narrative or conversational in tone. There's wordplay, alliteration and lots of rhyming, as well as a predilection for invented words. While the production on some of these tracks might be dated at times, the songs themselves remain sharp as a tack.
The Sherman Brothers Songbook is yet another superlative release by Walt Disney Records to be produced Randy Thornton, who is almost singlehandedly responsible for reviving the company's moribund park album and classic film soundtrack efforts. Here Thornton follows up his 1992 audio retrospective, The Sherman Brothers: Disney's Supercalifragilistic Songwriting Team, by expanding the number of tracks and presenting the pieces in chronological order – from the 1958 Annette single Tall Paul to their work on The Tigger Movie in 2000. Thornton also wrote the liner notes for the discs, which do not discuss each individual track but rather provide an anecdote from the Shermans' experiences on each film, television or theme park project.
What's startling about The Sherman Brothers Songbook is not only the amount of songs present, but the number of things that were left off. This is not to fault the release; think of it merely as a very thorough "greatest hits" compilation and not a replacement for the many soundtracks and collections this release was pulled from. Fans who have bought every Disney music collection over the last twenty years won't find too many unexpected shockers here, but that's not the point. This, in many ways, is the Disney version of the Beatles' One – the essential tracks, masterfully presented.
That's not to say there's no room for obscurities on this album. The two discs, combined with the Shermans' snappy and concise Tin Pan Alley songwriting, allow for a whopping 59 tracks. Wisely, from a collector's standpoint, Thornton substitutes in less-known versions of certain songs for their more often heard soundtrack counterparts. Thus, instead of the cuts from the film we get Louis Armstrong performing Ten Feet Off the Ground from The One and Only Genuine Original Family Band, and Anne Shelton singing It Won't Be Long 'til Christmas from The Happiest Millionaire. This wealth of material is made possible by Disney's publishing strategy at the time, which involved two record labels – Buena Vista Records and Disneyland Records. Buena Vista was the "flagship" label, offering premium titles, cast soundtrack albums, and albums by prominent artists. Disneyland Records was in charge of budget titles, releasing albums targeted mostly at children. They also released a second tier of soundtrack albums, featuring covers of a film's songs by a variety of studio musicians and vocal groups. This arrangement allowed for the labels to release a wide variety of music in its heyday, not all of it derived directly from Disney films. Three songs from one of these albums, all covers from the film Chitty Chitty Bang Bang, appear on The Sherman Brothers Songbook as bonus tracks. An astounding number of "civilians" believe this MGM film to be a Disney production, and it's not surprising when you hear the songs. Thankfully, Disneyland Records recorded a cover album at the time, and so these three non-Disney songs by the Shermans can take their rightful place in this collection.
Another rarity from the collection indicates an enticing potential direction for future releases; instead of including Annette's version of Strummin' Song from The Horsemasters, Thornton includes a fun demo version of the tune with Annette in the studio with Richard Sherman. While a lot of outtakes would have seemed out of place in a mass-market title like this, one can only imagine the hours upon hours of demos, alternate versions, and scads of unreleased songs by the Shermans that sit in Disney's vaults. This is a great two-disc collection that serves, in the end, to whets fans' appetites for a huge box set or series of releases.
Of the music itself, there's not much one could say that hasn't been said. The songs sounds great, though; producer Thornton is a stickler for quality and the pieces sound as unblemished and clear as the day they were recorded. Everyone will have their own favorites, and a track or two that they skip over more often than not. Listening with fresh ears will lead you to rediscover the songs or find new favorites; I still can't get over how truly excellent On the Front Porch from Summer Magic is, despite having heard it many times previously. The disc also features the stateside debut of a track intended for EPCOT Center and eventually used in Tokyo Disneyland; Meet the World is, I believe, the Shermans' "stickiest" song ever – more addictive, even, than it's a small world. It's true.
Rather than try and rate things here with a star or numerical system, I'm going to simply recommend if you should buy, borrow, or bury them. The Sherman Brothers Songbook is a definite buy for any fan of Disney films, animation, or theme park music. Even if you have most of these tracks in your library, having them remastered and collected in one place, along with the rarer tracks, is worth the price of admission. One can only hope that Walt Disney Records continues the trend we've seen this year, with the World's Fair set and now this collection. There is a lot of music waiting to be heard, and this disc represents some of the best.
The Sherman Brothers Songbook is available on CD and as MP3 download.
The Sherman Brothers Songbook
Disc One

1. Tall Paul from the album Annette
2. Pineapple Princess from the album Hawaiiannette
3. The Flubber Song – The Absent-Minded Professor
4. The Parent Trap – The Parent Trap
5. For Now For Always – The Parent Trap
6. Let's Get Together – The Parent Trap
7. The Wonderful World of Color (Main Title) – The Wonderful World of Color
8. The Spectrum Song – An Adventure In Color
9. The Green with Envy Blues – An Adventure In Color
10. Strummin' Song (Rehearsal Version) – The Horsemasters
11. Although I Dropped $100,000 in the Market – Symposium on Popular Songs
12. I'm Blue For You (Boo Boo Boo Boo Boo) – Symposium on Popular Songs
13. Castaway – In Search of the Castaways
14. Enjoy It! – In Search of the Castaways
15. On the Front Porch – Summer Magic
16. Femininity – Summer Magic
17. The Ugly Bug Ball – Summer Magic
18. The Tiki, Tiki, Tiki Room – The Enchanted Tiki Room, Disneyland® Park
19. It's a Small World – The New York World's Fair
20. There's a Great Big Beautiful Tomorrow – The New York World's Fair
21. A Spoonful of Sugar – Mary Poppins
22. Chim Chim Cher-ee – Mary Poppins
23. Feed the Birds (Tuppence a Bag) – Mary Poppins
24. Supercalifragilisticexpialidiocious – Mary Poppins
25. The Monkey's Uncle – The Monkey's Uncle
26. That Darn Cat – That Darn Cat
27. Winnie the Pooh – Winnie the Pooh and the Honey Tree
28. Up, Down and Touch the Ground – Winnie the Pooh and the Honey Tree
29. Little Black Rain Cloud – Winnie the Pooh and the Honey Tree
30. I Wan'na Be Like You (The Monkey Song) – The Jungle Book
31. Trust In Me – The Jungle Book
32. My Own Home – The Jungle Book

Disc Two

1. Fortuosity – The Happiest Millionaire
2. Valentine Candy – The Happiest Millionaire
3. Are We Dancing – The Happiest Millionaire
4. It Won't Be Long 'til Christmas – The Happiest Millionaire
5. The Wonderful Thing About Tiggers – Winnie the Pooh and the Blustery Day
6. Heffalumps and Woozles – Winnie the Pooh and the Blustery Day
7. The Rain Rain Rain Came Down Down Down – Winnie the Pooh and the Blustery Day
8. Ten Feet Off the Ground – The One and Only Genuine Original Family Band
9. The Happiest Girl Alive – The One and Only Genuine Original Family Band
10. 'Bout Time – The One and Only Genuine Original Family Band
11. Chitty Chitty Bang Bang – Chitty Chitty Bang Bang (BONUS TRACK)
12. Hushabye Mountain – Chitty Chitty Bang Bang (BONUS TRACK)
13. Me Ol' Bam-Boo – Chitty Chitty Bang Bang (BONUS TRACK)
14. The Aristocats – The Aristocats
15. Scales and Arpeggios – The Aristocats
16. She Never Felt Alone – The Aristocats
17. The Age of Not Believing – Bedknobs and Broomsticks
18. Portebello Road – Bedknobs and Broomsticks
19. The Beautiful Briny – Bedknobs and Broomsticks
20. One Little Spark – Journey Into Imagination, EPCOT ®
21. Makin' Memories – Journey Into Imagination, EPCOT ®
22. Magic Journeys – Magic Journeys, EPCOT ®
23. Meet the World – Meet the World, Tokyo Disneyland®
24. Pooh's Lullabee – The Tigger Movie
25. Whoop-De-Dooper-Bounce – The Tigger Movie
26. Your Heart Will Lead You Home – The Tigger Movie
27. Walt Disney and The Sherman Brothers Sing – Progressland Promotional Film