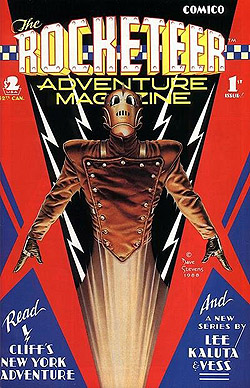 Good news, everyone!
It was recently announced that IDW Publishing will release a complete collection of Dave Stevens' comic series The Rocketeer this October. The stories, originally released between 1982 and 1995, hearkened back to the glory days of illustrated pulp fiction and were the basis of Disney's 1991 film of the same name. Stevens' exacting style of illustration and love of vintage pin-up art brought to life the story of a young test pilot who discovers an experimental jet pack which allows him to fly – and fight Nazis!
The stories were originally published by several different companies over the course of their run, and have never been collected in one volume before. The original releases are long out of print, and have been out of the reach of readers for many years. Stevens himself passed away last year. The new collection will feature all of Stevens' Rocketeer tales, with completely new coloring by Eisner-winning artist Laura Martin.
IDW will actually release two editions of the collection – one hardbound "regular" edition and an over-sized "deluxe" edition with a hundred pages of extra content. The new content will consist mostly of previously unseen Rocketeer art by Stevens.
And, because I can never say it enough, a ride based on The Rocketeer, which took place in 1938, would fit oh-so-nicely into Florida's Disney Hollywood Studios. Sure, the film isn't incredibly well known, but I bet that more guests to the park have seen it than have seen Song of the South, and Splash Mountain is still a hit. This is a pet project (slash obsession) of mine, so get used to hearing about it…